History
Living in Clichy (92), I began a training with Guy Duchêne (L'Atelier de l'Accordage), then with Cavagnolo, in Beynost (01), accordions which remain, from my point of view, in the best market instruments.
It is then at summer 2007 that the adventure started with the opening of a first workshop in Dollon (72)… in a caravan. The narrowness was quickly felt and a few months later, the arrival of a 20 square meters fairground trailer offered a new breath to the factory in becoming
This experiment lasted 1 year before being able to invest in a new enlarging. We then took place in a hangar near from there which finally enabled us to accomodate your instruments under more "conventionnal" conditions. But it was not yet sufficient. The difficult winter conditions imposed a better isolated workshop to be able to accomodate you all the year under the best conditions.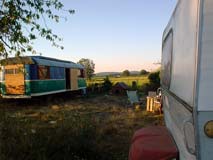 Without forgotting the partnership engaged during these 4 years with the Museum of Mechanical Music of Dollon, we have built a wooden workshop of 60 square meters between Évaillé and Maisoncelles (72) which have opened on May 25, 2011.