Tuning
Different tones of an accordion are based on the use of multiple voices and multiple registers. The most common voices (melody side) are :
The said "clean flute", basic sound of your instrument.
The Bassoon, voice tuned to the octave of flute in the bass.
The Piccolo, voice tuned to the octave of flute in the treble.
High and low flutes, slightly detuned from the clean flute.
Registers are a combination of several voices, it's what you select by pressing the various selection buttons of the accordion. The most common registers are:
The Flute, Bassoon or Piccolo, using only the same named voice.
Bandonion, using the flute and bassoon. As the name suggests, this is the only registry of bandonions.
Double bass, using two bassoons in resonnance box, giving very particular sound widely used in jazz.
Brio or "musette", using two or three flutes, the utility of which is explained just below.
Full play, using two flutes and bassoon.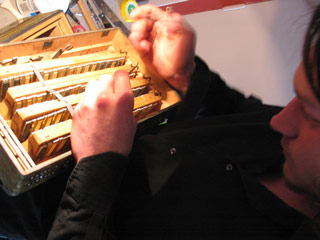 The combination of two notes detuned together give birth to a vibrato, a beat between the two notes becoming ever faster as the two notes are more detuned. It is here that reigns custom tuning of each instrument, based on the music you play on your accordion. The most common tunings are listed below but there are an infinite ones, which only depends on your desires ...
Clean tune : the two flutes are exactly the same, giving more volume and a nice boost to the note. Mostly used in classical music.
Swing tune : with few beats, it is much used in jazz.
American tune : precursor of swing (used for example by Gus Viseur) is a good compromise used as factory reference if nothing is specified by the customer.
Celestial tune : with a lot of beats, perfect for dancing and traditionnal music.
"Musette" tune, called "the real musette": same as celestial but using more the low flute opposite of high flute, increasing the amplitude and frequency of the beats (see charts below).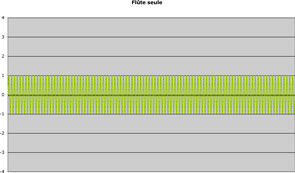 All these tunings can be made in our workshop, no one being better than another. It only depends on your repertoire, your tastes,... of you... If you wish, it is also possible to use intermediate tunings, the most common being the attenuated american and increased american.